In the Media
From coverage of charitable work to news about Dr. Dean Lodding's participation in the Extreme Makeover television series, our cosmetic dentist and his experienced dental team have been featured in a variety of media outlets. Please read on to see images, videos, and articles that showcase members of our practice, as well as a "Welcome" message from one of our favorite patients!
Photos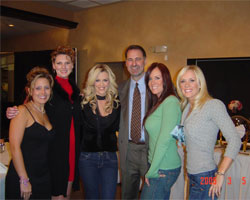 Dr. Dean Lodding's Team with the McCarthy Family
Dr. Lodding and his staff, enjoying a photo opportunity with one of his favorite patients, Jenny McCarthy and the McCarthy girls.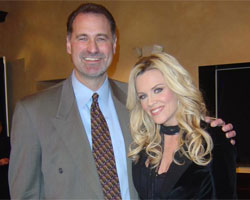 Dr. Lodding and Jenny McCarthy
Dr. Lodding taking a moment to enjoy the Extreme Makeover reveal shoot, with a special patient, Jenny McCarthy.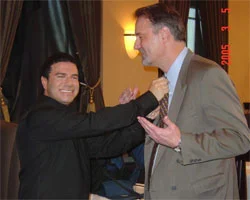 Dr. Lodding and Sam Samboura
Dr. Lodding getting the final touches from Extreme Makeover style expert Sam Samboura, right before the reveal shoot.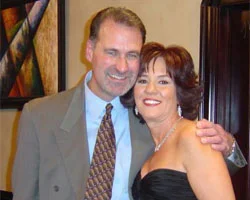 Dr. Lodding and Linda - Extreme Makeover Reveal
Dr. Lodding enjoying the satisfaction and confidence of his Extreme Makeover patient, Linda, who is loving her new smile at the reveal shoot.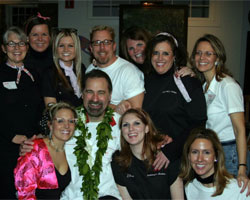 Dr. Lodding's 50th Birthday Party
Dr. Lodding and the Smile for Life Dental team are together celebrating a themed party for Dr. Lodding's 50th birthday.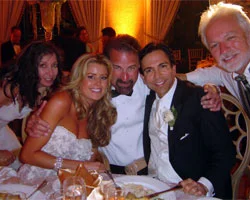 Celebrating Dr. Dorfman's Wedding
Dr. Lodding and Dr. Bill Dorfman are enjoying an evening photo opportunity, celebrating Dr. Dorfman's wedding.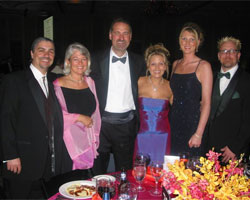 The Entire Team
Dr. Lodding and his Smile For Life Dental team are enjoying a toast by Dr. Lodding for leading such a great team that performs inspirational makeovers for people.
Video
News