Meet Dr. Gabrielle Chevance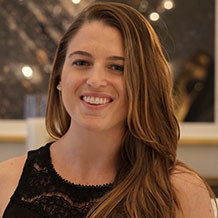 Dr. Gabrielle Chevance is a native of the New York metropolitan area, and we are so happy she has decided to make the Elgin area her home. She is committed to consistently delivering quality dental care of the highest standard possible. Dr. Chevance genuinely values the involvement of her patients in their treatment. She is focused on creating a comfortable environment and thoroughly communicating all aspects of a recommended procedure, ultimately serving as a true advocate for patients' health.
Dr. Chevance performs an array of general and cosmetic dentistry treatments here at Smile for Life Dental. She also offers advanced Invisalign® procedures to help patients correct teeth misalignment and other orthodontic concerns in a more discreet and comfortable way. In fact, Invisalign® is one of Dr. Chevance's favorite procedures to perform because it has the capacity to significantly improve the smiles of patients across a broad spectrum of ages, from adolescents to individuals well into their adult years, giving people the opportunity to address orthodontic concerns without worrying about the aesthetic effects of traditional braces. In addition, Dr. Chevance is extensively trained in the use of BOTOX® injections for the treatment of TMJ Disorder and for cosmetic facial enhancement. These treatments, as well as injectable dermal fillers, are available from Dr. Chevance right here at our office.
Education
Dr. Chevance earned her Bachelors of Science degree in Biology from Indiana University, Bloomington and her Doctor of Dental Medicine degree from the Midwestern University College of Dental Medicine in Downers Grove. Dr. Chevance is a firm believer in the pursuit of continuing dental education to enhance her training and skills in the latest treatments and techniques. She has completed courses in orthodontics, Invisalign®, cosmetic dentistry, BOTOX® injections, and dermal fillers.
Memberships
American Dental Association
Chicago Dental Society
American Academy of Facial Esthetics
Outside of her duties here at Smile for Life Dental, Dr. Chevance enjoys traveling, exploring new restaurants in the area, and attending concerts. She also writes music and plays the acoustic guitar, an instrument she first began strumming when she was 10 years-old.
If you have questions about our experienced dentists and the treatments they offer, or if you would like to schedule an appointment, please contact Smile for Life Dental today.