Elgin Dentist Discusses Oral Systemic Health and The Importance of Preventative Dental Care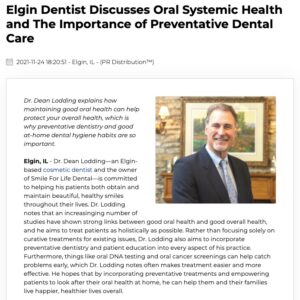 Dr. Dean Lodding explains how maintaining good oral health can help protect your overall health, which is why preventative dentistry and good at-home dental hygiene habits are so important.
Elgin, IL – Dr. Dean Lodding—an Elgin-based cosmetic dentist and the owner of Smile For Life Dental—is committed to helping his patients both obtain and maintain beautiful, healthy smiles throughout their lives. Dr. Lodding notes that an increasinging number of studies have shown strong links between good oral health and good overall health, and he aims to treat patients as holistically as possible. Rather than focusing solely on curative treatments for existing issues, Dr. Lodding also aims to incorporate preventative dentistry and patient education into every aspect of his practice. Furthermore, things like oral DNA testing and oral cancer screenings can help catch problems early, which Dr. Lodding notes often makes treatment easier and more effective. He hopes that by incorporating preventative treatments and empowering patients to look after their oral health at home, he can help them and their families live happier, healthier lives overall.
As a part of his dedication to the field of oral systemic health, Dr. Lodding is a co-founding member of the American Academy of Oral Systemic Health (AAOSH). This organization focuses on connecting healthcare professionals from different fields in order to promote greater understanding of the mouth-body connection. It also aims to increase public and professional awareness of the ways in which oral health can impact overall health—and vice versa. According to Dr. Lodding, dentists are uniquely positioned to identify the early stages of many serious conditions, including sleep apnea and certain cancers. Furthermore, poor oral hygiene and chronic oral infections can often contribute to an increased risk of other health conditions, such as heart disease, stroke, rheumatoid arthritis, and Alzheimer's.
As more studies are conducted, the conversation surrounding oral systemic health continues to grow. In May of 2021, the World Health Organization (WHO) passed a resolution calling attention to the issue of oral health and its many connections with holistic health. Some of the goals of the resolution include promoting stronger collaboration between primary healthcare providers and dental professionals, increasing public access to oral healthcare treatments, and spreading knowledge surrounding preventative care measures. Dr. Lodding states that this is a major step forward for the healthcare field, as it encourages further discourse across disciplines—all with the aim of improving public health.
About Dean Lodding, DDS
Dr. Dean Lodding is the owner and director of Smile For Life Dental in Elgin, Illinois. He has over 40 years of experience as a dentist, and he has remained committed to advancing his education and remaining at the forefront of modern technology and innovation. In addition to helping found the American Academy of Oral Systemic Health, Dr. Lodding is also a former president of the American Academy of Cosmetic Dentistry, and he remains an active member of numerous other professional organizations. In order to help his patients obtain the beautiful, healthy smiles they desire, Dr. Lodding and his team at Smile For Life Dental offer a range of cosmetic, restorative, and preventative treatment options, including dental implants, teeth whitening, Invisalign®, porcelain veneers, and same-day crowns. Dr. Lodding is available for interview upon request.
For more information about Smile for Life Dental, please visit drdeanlodding.com or facebook.com/SmileForLifeDental.
Contact:
Smile for Life Dental
2001 Larkin Ave, Suite 120
Elgin, Illinois 60123
(847) 697-1111
Rosemont Media
(800) 491-8623
www.rosemontmedia.com