Sleep Apnea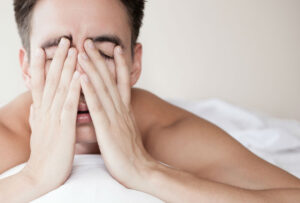 Some statistics suggest that over 18 million Americans are impacted by sleep apnea—and that over half of these men and women are unaware they are affected by the condition. Sleep apnea can dramatically increase risks to an individual's life and overall health, and result in debilitating effects to one's day-to-day livelihood. Fortunately, there are advanced treatment options available from our dentist in Elgin that can reduce the symptoms of sleep apnea and give patients a healthier, more restful night's sleep. If you are troubled by sleep apnea, Dr. Dean Lodding and our experienced team team at Smile for Life Dental can help.
What Are the Symptoms of Sleep Apnea?


When the muscles and soft tissues of the throat, tongue, and nasal passages become overly relaxed during sleep, the airways can narrow and prevent sufficient oxygen flow. These collapsing airways are the cause of sleep apnea, and can quickly manifest symptoms such as severe snoring and teeth grinding or clenching. Individuals with sleep apnea can experience frequent interruptions of breath that last up to ten seconds or more, which can lead to serious health risks when left untreated. Symptoms of sleep apnea may also include headache, irritability, the need to go to the bathroom several times during the night, abruptly waking up with a choking or gasping sensation, restlessness during the day, fatigue, trouble focusing, and other potential effects.
What Are the Health Risks of Sleep Apnea?


One of the first side effects to develop from sleep apnea is a chronic feeling of fatigue or sluggishness due to constant interruptions of sleep. When left untreated, sleep apnea can lead to more serious health concerns, including:
Insomnia
Short-term memory loss
High blood pressure
Gastric reflux
Diabetes
Heart disease
Stroke
Depression
Auto accidents/work accidents
Sexual dysfunction
In severe cases of sleep apnea, the condition may even cause sudden cardiac death. If you suspect that you or a loved one may be suffering from sleep apnea, attaining a proper diagnosis and receiving treatment is essential for avoiding these health risks and once again feeling well-rested.
To learn more about sleep apnea, or to schedule an appointment with one of our qualified Elgin dentists to identify an ideal treatment method for you, please contact Smile for Life Dental today.