Full Mouth Rehabilitation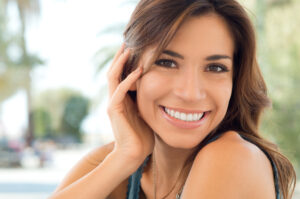 Some procedures are more complex than a single tooth. Full mouth rehabilitation addresses a mouthful of challenges, and is expertly provided by our restorative dentist, Dr. Dean Lodding. If you can identify with the need for significant improvement in your oral health, full mouth rehabilitation may be what you're looking for. It can restore function and a stunning appearance, especially with less-than-perfect oral health. Not every dentist has the same skills or ability to provide full mouth rehabilitation, which is why our cosmetic dentist in Elgin, Dean Lodding, DDS, has immersed himself in the latest continuing education and technology.
WHO IS A GOOD CANDIDATE FOR FULL MOUTH REHABILITATION?
Many of the patients Dr. Lodding recommends for full mouth rehabilitation have multiple dental issues to be addressed or corrected. These can often be a combination of both cosmetic and functional concerns. Common dental problems that can benefit from full mouth rehabilitation include:
Extensive tooth decay
Cracks or chips
Missing teeth
Broken or damaged teeth
Advanced gum disease
Misalignment amongst the teeth
Deep stains and discoloration
In your consultation with Dr. Lodding, your concerns and goals will be reviewed. He may recommend a Smile Design Makeover if your goals focus more on the aesthetic appearance of the teeth.
WHAT DOES THE FULL MOUTH REHABILITATION PROCEDURE ENTAIL?
Our patients appreciate that a full mouth rehabilitation is completely customizable and can cater to a variety of dental needs. Some of the procedures that can potentially be a part of this treatment include:
Metal-Free Fillings
We provide tooth-colored fillings that are created of durable composite material. This is an alternative to amalgam (metal) fillings, which are easily noticeable amongst the other teeth. Metal fillings can also breed more bacteria between the filling and the tooth if it should become loose. Tooth-colored fillings not only use superior materials, but they also provide a more natural-looking appearance.
Porcelain Veneers
Veneers are thin, durable shells that can conceal dental concerns such as chips, cracks, stains, and mild cases of teeth misalignment. They offer a natural appearance when color-matched to surrounding teeth./li>
Porcelain Crowns
A damaged tooth can often benefit from a porcelain crown. Our high-quality, custom-designed porcelain crowns can protect and reinforce the entire tooth, providing results that look and feel natural.
Laser Periodontal Care
Advanced dental lasers have made disinfecting diseased gums a more effective and  comfortable treatment. Typically, these procedures are virtually painless and require minimal recovery time.
Dental Implants
Implants are often helpful for patients missing one or more teeth. A titanium post is secured and anchored to the jawbone, where it should fuse to the bone and mimic the function of a natural tooth root. Then, a custom porcelain crown is attached to the post with a durable dental cement. Dental implants are designed to look, feel, and function like natural teeth, without any extra maintenance required.
Anchored Dentures
As opposed to traditional dentures that can move and slip along the gums, anchored dentures are supported and strengthened by dental implants. This alternative offers a more secure, comfortable, and convenient option for patients with missing teeth.
As each procedure can be customized to meet your needs, there is not a blanket way to describe the full mouth rehabilitation treatment process. It may be that your procedure is completed in just one or two visits, whereas more in-depth treatments can require multiple visits to our office. When you visit Dr. Lodding for a consultation, he will create a custom treatment plan and a timeline based on your specific needs.
HOW MUCH DOES FULL MOUTH REHABILITATION COST?
The cost of full mouth rehabilitation will range based on the procedures that Dr. Lodding recommends. We will provide you with a detailed estimate at the end of your consultation. Our office staff is also available to help determine financing options and payment methods that can work to make this treatment as financially convenient as possible. Depending on your insurance coverage, your policy may cover certain treatments. Typically, cosmetic treatments will not be covered by insurance.
FULL MOUTH REHABILITATION Q&A
Q: Have you had more than one dentist work on your teeth?
A. Oftentimes our patients have received multiple procedures over the years, resulting in a mismatched smile and a less-than-ideal bite. Dr. Lodding looks at your whole mouth, from your jaw and bite function to its aesthetic beauty, to create the perfect form and function and give you a new start for the rest of your life.
Q. What's involved in a full mouth rehabilitation?
A. Dr. Lodding will remove cracked, worn-down silver fillings and crowns, repair tooth-replacements such as bridges and dental implants, examine all jaw muscles to make sure they're in perfect health, treat any periodontal disease, and contour your gumline with a virtually painless soft-tissue laser. Once all functional issues have been addressed, Dr. Lodding then focuses on the aesthetic aspects of your smile, utilizing a variety of treatments, from porcelain veneers or dental implants to teeth whitening.
Q. How long will a full mouth rehabilitation take?
A. Our patients are amazed at how quickly Dr. Lodding can perform a full mouth rehabilitation. He is able to achieve tremendous results at each appointment, and is known for his ability to transform patients' smiles quickly and effectively. After only a few visits, you'll see a major change in the way your smile looks and feels!
Q. How can I pay for full mouth rehabilitation?
A. Dental insurance may cover some aspects of your procedure, depending on your treatment plan. Our staff can work with you to identify any insurance benefits that may be available to you. We also work with CareCredit®, one of the most reputable dental care financing companies in the nation. CareCredit® offers low-interest monthly payment plans to qualified applicants that can make paying for treatment more convenient. In addition, our office accepts a variety of payment methods, including cash, check, debit cards, and most credit cards.
FULL MOUTH REHABILITATION REQUIRES FULL-SPECTRUM SKILLS
To bring world class full mouth rehabilitation to Elgin, Dr. Lodding has his own on-site ceramist, a thorough understanding of dental implants, and a state-of-the-art laser for nearly painless gum treatment. These are just a few things that set our Smile for Life Dental office apart. Our experienced dentist has a positive attitude and embraces positive change, which makes the life-changing experience more pleasant than you can imagine.
Extensive planning is required to treat a full mouth rehabilitation case from start to finish. Our dentist is prepared with the latest technology, over a hundred units of continuing education per year, and elite full mouth rehabilitation experience. If you are curious about full mouth rehabilitation, come to our office in Elgin for open communication as well as confidence in your dentist. Dr. Lodding has the skills, passion, and the right tools to restore function and make your smile beautiful for life.
For more information regarding full mouth rehabilitation, or to schedule a consultation with Dr. Lodding, please contact our dental office today.