Porcelain Veneers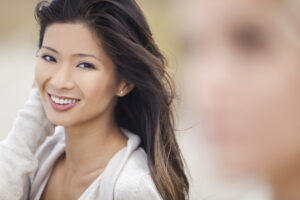 At Smile for Life Dental, we are committed to providing an array of cosmetic dental options to help enhance our patients' smiles. Porcelain veneers are designed to do just that. This is a conservative, yet innovative procedure used to conceal gaps or other perceived smile imperfections. Designed to be placed over the front of existing teeth, porcelain veneers help conceal gaps and create a more balanced smile. They offer astounding cosmetic improvements in just two visits, giving your smile a definite "wow" factor without excessive or lengthy treatment plans.
After Dr. Dean Lodding and his staff design and create the perfect veneers for your unique smile, the porcelain veneer is perfectly fitted to the tooth. The veneer is thin with a natural appearance and light refraction qualities. Porcelain veneers patients of Dr. Lodding know veneers boost the harmony of surrounding teeth and consequently, the radiance of your entire smile.
Veneers can be applied to just one tooth, or to several front-facing teeth if necessary. Each veneer is a thin, yet durable porcelain shell that covers discolorations, conceals gaps, creates alignment amongst misaligned teeth, and creates an overall more attractive smile.
Using advanced dental bonding techniques Dr. Lodding is able to attach porcelain veneers to the teeth, making them virtually permanent. Routine hygiene visits at our office can help ensure these veneers are maintained and cleaned properly.
Dental restorations by Dr. Lodding help many patients feel more confident about the appearance of their smile. Porcelain veneers can offer a tremendous smile to nearly anyone – smile your best with porcelain veneers from Dr. Lodding.