Porcelain Veneers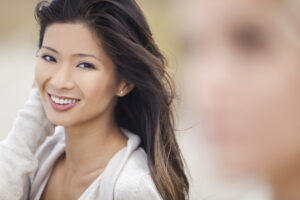 At Smile for Life Dental, we are committed to providing an array of cosmetic dental options to help enhance our patients' smiles. Porcelain veneers are designed to do just that. This is a conservative, yet innovative procedure used to conceal gaps or other perceived smile imperfections. Designed to be placed over the front of existing teeth, porcelain veneers can help create a more balanced smile. They offer astounding cosmetic improvements in just two visits, giving your smile a definite "wow" factor without excessive or lengthy treatment plans.
BENEFITS OF PORCELAIN VENEERS
Porcelain dental veneers are a common choice for patients looking to restore form and function to their teeth. The outcome can be a beautifully enhanced smile that looks natural and refreshed. This cosmetic procedure can correct the appearance of the following tooth imperfections:
Gaps
Chips
Cracks
Stains
Mild Misalignment
Uneven teeth
Schedule an appointment with our cosmetic dentist, Dean Lodding, DDS, to improve the length, shape, and color of your teeth with porcelain veneers.
PORCELAIN VENEERS PROCEDURE
During your consultation, Dr. Lodding can determine if one or more of your teeth would benefit from porcelain veneers. He will conduct an oral examination, review your dental history, and determine your candidacy for this procedure. If Dr. Lodding believes porcelain veneers could be advantageous for your needs, he will design and create the best veneer(s) for your unique smile.
After they are created, the veneers will be applied to the front of the tooth or teeth using advanced dental bonding techniques. This is a conservative treatment that often requires little-to-no modification of the original tooth structure. As each thin porcelain shell has light refraction qualities, they can give off a natural appearance. With proper care, your porcelain veneers can last for decades.
PORCELAIN VENEERS RECOVERY AND RESULTS
Once your procedure is completed, some minor tooth sensitivity may be experienced. However, your teeth should feel back to normal within one to two weeks. If you are prone to grinding or clenching your teeth, Dr. Lodding may recommend you wear a mouthguard at night to help protect your veneers. Although porcelain veneers are made from durable material, they do have the potential to break or crack like a real tooth. For this reason we recommend avoiding certain types of food, such as nuts, and refraining from chewing on ice. More specific guidelines can be provided in your consultation with Dr. Lodding.
Porcelain veneer patients of Dr. Lodding know that veneers boost the harmony of surrounding teeth and, consequently, the radiance of their entire smile. Dental restorations such as porcelain veneers can also help many patients feel more confident in their appearance. To keep your porcelain veneers in their best condition, we advise using a simple dental hygiene routine and scheduling routine hygiene visits at our office. These steps can help ensure your veneers are maintained and cleaned properly.
PORCELAIN VENEER FREQUENTLY ASKED QUESTIONS (FAQS)
Q. Will my porcelain veneers procedure hurt?
A. Dr. Lodding does everything he can to minimize potential pain or discomfort during your procedure. Occasionally, some reshaping of the tooth will be needed to ensure the most accurate fit and feel. In most cases, there is minimal drilling or reduction required before the procedure. We can also provide a numbing agent to reduce any possible discomfort and to help make the procedure more comfortable. At Smile for Life Dental, our focus is to give patients quality dental care each and every time they visit our office. If we can create a smile that is more beautiful than before their treatment, we know we have done our job.
Q. How long will my porcelain veneers procedure take to complete?
A. The length of the procedure will largely be based on the numbers of veneers you need. Usually, veneers require two separate visits to our office. The first visit is for the consultation, which will detail the treatment plan, provide you with a cost estimate, and begin the initial stage of the procedure. The second visit will be to place the veneers.
Q. How long will my porcelain veneers last?
A. Your porcelain veneers are designed to last for many years. We strive to create durable veneers that you can rely on. Your veneers should prove to have long-lasting results (decades, in many cases) as long as they are properly cared for.
Q. Will my porcelain veneers need special care?
A. No, special care is not needed to maintain your porcelain veneers. Our number one piece of advice is to embrace a regular dental hygiene routine, complete with brushing, flossing, and visiting the dentist at least twice per year for comprehensive and professional cleanings. This can help maintain the health, function, and beauty of not only your porcelain veneers, but your entire smile.
Q. What dental options do I have other than porcelain veneers?
A. During your porcelain veneer consultation, Dr. Lodding may communicate another procedure that may be more beneficial to meeting your dental needs. Some of our cosmetic treatments include teeth whitening and cosmetic bonding. However, if you need something more restorative, a porcelain crown may be recommended. Each of these alternatives to porcelain veneers can help you achieve the smile of your dreams. If a porcelain veneer is not the most ideal choice for your goals, Dr. Lodding will explore the alternatives with you and help you determine the best option.
Q. What are the payment options for my porcelain veneers procedure?
A. Dental insurance may cover a portion of the procedure; however, since it is primarily a cosmetic treatment, coverage for porcelain veneers is not likely. Our office staff would be happy to help navigate any insurance coverage questions you have and talk with you about payment options and affordable dental financing plans. We accept a variety of payment methods, including, cash, major credit cards, and personal checks. CareCredit® is the dental financing company we work with to help qualified applicants receive the treatment they need.
If you would like to schedule an appointment, or if you have any questions, please contact our office so we may further assist you.