Testimonials
Cheryl
"I really appreciated the care I received at Smile for Life Dental. They were very kind and very pleasant. They made me feel very comfortable."
Donna
"The staff here is very friendly. They really care about you and they want to make sure you are comfortable. They even ask you what kind for music you want to listen to today… and they always ask you if you need anything special. They are just very charming people."
Sandra
"The staff and the team at Smile for Life Dental are all very kind. Kind is the word I keep using, but it's true. I think they are understanding and kind. When you have a new dentist, it's a personal thing and you need understanding. I got that at this office."
Jennifer
"Dr. Lodding is a very caring doctor. He treats you like he is one of your family. Also, he is very professional and not pushy. He really looks to your needs. I felt that he really wanted what is best for me and my smile. I thought I wanted something, but he said, "I think it will look better this way." He was absolutely right! I know he could be in Hollywood, but he's not. He's right here treating families and his patients because he cares about his people and his practice. And I love that about him."
Kathy
"I love my smile that I received from Smile for Life Dental. It's the best. Smiles, to me, are very important. It is the first thing you see and it tells a lot about you."
Ken
"The minute you walk into their office, you feel comfortable. You feel welcome. They are all very outgoing and you just feel like you're not afraid being there. You want to actually come back and enjoy the whole process, right all the way from the minute you walk in and meet the receptionist to when you get into the chair. There was this great camaraderie, this friendliness, this teamwork, that makes you feel very comfortable."
Kimberly
"I love my new smile. I would do it all over again and wouldn't change a thing. I get so many compliments on my smile now; it's amusing, actually. I travel a lot for business and everybody is always commenting about how beautiful my smile is and how bright and white it is. Definitely… I catch people staring right at my mouth verses giving me direct eye contact because they are taking in my smile."
Linda
"Dr. Lodding is the best, the very best dentist I have ever seen. His staff is wonderful: they are like family to me. When you come into this office, you feel comfortable right away. I have never felt so comfortable before while receiving dental work or any other kind of service.
These people are great. I just love them all and I can't say enough about them. They're the best."
Mike
"All the care I received here has been outstanding. I actually enjoyed going in to the dentist; which not too many people can say. And, talking with Dr. Lodding and Stephanie, who is my hygienist, is a joy. It is a joy to come up here."
Nichol
Dr. Lodding and the staff; the minute I need anything I can call them up. I called him on a Saturday and he called me right back and gave me a prescription and made sure I was feeling okay.
Anytime I had extensive work done that was extremely painful, he would call to make sure I was feeling okay the next day, And people from the the office would follow up too. They were extremely helpful in working with my schedule and trying to get me in. Whatever I needed to get done, Dr. Lodding got me in and he made sure I was a VIP patient. So, I'm extremely satisfied.
I would recommend Dr. Lodding and his team to anyone, not just for regular checkups but anyone that needs any kind of cosmetic or aesthetic work done. Definitely!"
Knowlton
It's hard to imagine a cuter patient testimonial than this one…
Knowlton is our idea of the perfect patient. He's happy, polite, and enjoys getting his teeth cleaned. Plus, he loves our staff just as much as we love seeing him!
Taralyn
Taralyn first came to Smile for Life Dental with tears streaming down her face.
The pain and sensitivity she had been enduring on the left side of her mouth was just too much handle; that, and the sinus infections and migraines that came along with it.
"Everyone was super sweet and when I came in, and they were really sympathetic to my problem."
Taralyn had a consultation with Dr. Lodding about possible solutions to her problem, and that's when we learned how severe it had become.
"For two years, every time I drank something it had to be room temperature," she says.
It turns out the pain was being compounded due to an incorrectly performed root canal and crown placement by another dentist a few months prior to seeing Dr. Lodding.
Once she came in, we were able to evaluate her case and recommend a treatment plan consisting of deep cleanings and periodontal therapy.
A few visits later, she was feeling like she had never felt in years – better.
After years of daily battle with pain and migraines, she was finally able to eat comfortably, and live happily with peace of mind and body.
"Now I get my teeth cleaned every three months," Taralyn says, excited at the prospect of remaining in the best dental health possible.
There's another interesting caveat to the story: Taralyn says the treatment she received directly affected her fertility. Shortly after the Smile for Life Dental team restored her oral hygiene and took away the stress from the pain, she was able to successfully get pregnant after trying for almost two years.
She is happily expecting a little girl, but the team insists that the name, "Dean" shouldn't be left out of the baby-name discussion.
As you can see, the oral systemic link is indeed real and oral hygiene is extremely important to maintain.
To learn more about the oral systemic link and how we can help improve not only your dental health, but your overall health, contact us today.
Tammy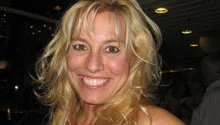 Tammy recently had her first dental implant installed with us. Prior to visiting us, she did not know what to expect and was scared of any pain or discomfort she may experience during the procedure, as many patients are.
She shares her dental implant experience in her own words below:
"When I came in for my appointment, the team at Smile for Life Dental made me feel so comfortable and took the time to answer every little question I had, explaining every detail so I had no surprises.
During the procedure I was shocked when I felt absolutely nothing – no pain at all! And what was even more amazing to me was that after the procedure I had no discomfort either. I felt so comfortable and so safe the whole time.
I was amazed they were able to place a new implant tooth in my jaw without any pain. I'm so happy and wish I would have done it earlier!
I have tears in my eyes just thinking about how genuine everyone is in that office. You can't fake that type of care. I felt like my very best girlfriend was taking care of me every step of the way.
Thank you for giving me my beautiful smile back and holding my hand along the way."
Smile For Life Dental Patient
"I come from a family of dentists and chose Dr. Lodding instead of them for my veneers if that tells you anything. The quality of work was excellent. I've had my veneers since 1988 and only had to have one replaced (about a year ago). No one…no one can tell I have veneers – that's how natural they look. I've seen other veneers and mine look exceptionally good by comparison.
My favorite thing about Dr. Lodding is his confidence level and demeanor. I just feel relaxed whenever I'm there. And they have the loveliest office I've ever seen in my life. You don't even need to sign in because they know you by name. They really make you feel like you're part of the group.
I know a lot of people don't go to the dentist because it can be a painful process, but that's not the case with Dr. Lodding. I have never experienced pain with Dr. Lodding, even when he had to apply shots! I used to hate the sound of the drill too, but it doesn't even bother me anymore. I actually had a cavity when I went there last week and the filling was painless.
I literally love going there. I would never give up Dr. Lodding."