Oral DNA Testing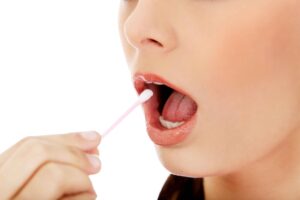 Monitoring the health of your mouth benefits your whole wellness. Dr. Dean Lodding believes in the best preventative care possible, which is why he performs oral DNA testing at your regular hygiene cleanings. These tests are quick, easy and non-invasive, and the information they provide is well worth the test.
There are three types of tests that can help Dr. Lodding understand your potential risk for oral cancer or other conditions affected by the oral-systemic link.
At Smile for Life Dental, Dr. Lodding uses Oral DNA Labs tests which can determine:
The cause of periodontal infections
If you are at an increased risk of severe periodontal infections
If you are at risk of HPV-related oral cancer
To put it simply, certain people may have a higher risk of getting an oral infection or a periodontal ailment. If you fall into this category, it's best to know about it so Dr. Lodding and your other health care physicians can act accordingly. By knowing you are at increased risk, your doctors can watch for symptoms or prepare more effective treatments.
Here are some conditions which may indicate you could be at a higher risk for oral infections:
Type I or II diabetes
A history of cardiovascular disease
Using tobacco products
If you are having or have had surgery or radiation treatment
Periodontal pockets of 4mm or greater
Women who are of childbearing age
Protect your smile and your health – call Smile for Life Dental for your oral DNA testing appointment today.