Smile Design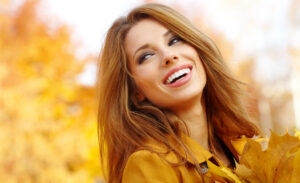 A great smile is a powerful asset – it can exude confidence, light up a room, or even turn someone's day around. Unfortunately, many people feel self-conscious about their smile due the appearance of their teeth. At Smile for Life Dental, Elgin cosmetic dentist Dean Lodding, DDS and our team believes that no one deserves to be embarrassed and/or insecure about their teeth to smile, which is why our practice offers a comprehensive cosmetic dental solution known as a Smile Design. With this advanced technique, you can enjoy a fully revitalized smile that you are proud to put on display.
What Is a Smile Design?
Also referred to as a Smile Makeover, the Smile Design process involves a customized combination of cosmetic dentistry services intended to improve the overall look and form of the teeth. Based on your particular dental needs and concerns, this individualized and inclusive treatment can restore damaged teeth, conceal chips and cracks, hide gaps and spaces, straighten misalignments, recontour the gumline, and/or lighten the color of the teeth to resolve stains and yellowing.
The Smile Design Process
To determine which techniques would be most beneficial for your Smile Design, Dr. Lodding will first perform a thorough oral evaluation using advanced imaging technology to obtain a precise view of your teeth and gums. Taking into consideration a number of features and characteristics unique to you – such as your eye color, skin tone, gum tissue and lip contour, and facial shape – he will then formulate a personalized strategy that aligns with your ideal smile goals.
Some of the most common cosmetic dental treatments that typically comprise a Smile Design include:
From start to finish of the Smile Design process, you will benefit from Dr. Lodding's expertise and experience in cosmetic dentistry combined with the convenience of our on-site ceramist who is highly skilled in creating custom restorations. Our practice is outfitted with all the amenities necessary to ensure you receive an optimal level of care in a safe and comfortable environment. Ultimately, our aim is to help you achieve a smile that is beautiful, natural-looking, and contagious – a smile you'll be thrilled to show off for years to come.
To learn more about the Smile Design process, or if you would like to schedule an appointment at our office, please do not hesitate to contact us today.