Cosmetic Dental Bonding
Cosmetic bonding is one of the most versatile and effective aesthetic dental treatments available. A tried-and-true method of correcting a wide range of common dental imperfections, cosmetic bonding from Dr. Dean Lodding and our dentists in Elgin can renew your smile in as little as one office visit.
What is cosmetic bonding?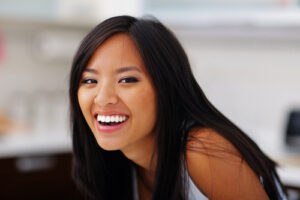 Many individuals experience gaps, stains, cracks, and chips among the teeth. Cosmetic dental bonding is a way to address those concerns. Cosmetic bonding utilizes a strong, tooth-colored resin to cover the affected area. The material is precisely sculpted and polished for results that appear so natural it should look like there was never a problem at all. Cosmetic bonding can often serve as an option for patients who would like an alternative to treatments such as porcelain veneers or dental crowns to meet their aesthetic needs.
What are the benefits of dental bonding?
Cosmetic dental bonding offers many potential advantages, including the ability to:
Restore the appearance of teeth affected by small chips and cracks
Effectively address minor gaps and spaces between the teeth
Enhance tooth symmetry and shape
Improve form and function for teeth that have become worn down over time
Improve the appearance of teeth that show signs of deep stains and discoloration
The procedure typically requires only one office visit
During your initial consultation, our dentist will talk with you about your goals and perform an oral evaluation. If you are a good candidate for this procedure, a customized treatment plan will be designed to address your concerns. Advanced cosmetic bonding materials combined with the skills of our experienced dentists make it possible to provide exceptionally natural-looking results.
What is the cosmetic bonding procedure like?
The cosmetic dental bonding procedure typically begins with a thorough cleaning of the affected tooth. A special solution will be applied to the tooth to prepare it for the bonding material. Then, a durable resin is placed onto the tooth layer by layer and then hardened with a high-intensity light. Our dentist will meticulously sculpt the hardened resin for the best possible results. Finally, the tooth will be polished to ensure a seamless color-blend.
What kind of results can I expect with cosmetic bonding?
Many patients who have had cosmetic bonding experience outstanding results that last for several years, as long as proper oral hygiene routines are maintained. It's important to note that, unlike a porcelain veneer, cosmetic bonding material is not stain-resistant. With that in mind, depending on dietary, oral hygiene, and lifestyle habits, the bonded tooth may need to have a "touch-up" later in life to maintain its beautiful sheen.
For more information on cosmetic dental bonding, or to schedule a consultation here at Smile for Lift Dental, please contact us today.