Restorative Solutions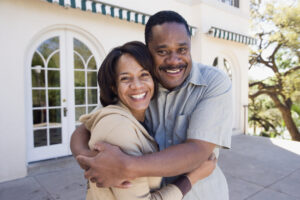 Restorative solutions at Smile for Life Dental can help repair lost or damaged teeth, helping them regain form and function. Our skilled and experienced dentist, Dr. Dean Lodding — along with his team of talented dental professionals — can help you find the treatment or treatments that best address your concerns and improve the overall health and strength of your teeth. If you are interested in the restorative options at Smile for Life Dental, please contact us today to learn more, or to schedule a consultation.
Dental Implants
For qualified candidates, dental implants are an excellent way to replace one or more missing or damaged teeth. Working closely with our oral surgeon, Dr. Richard Dryer, Dr. Lodding creates a personalized treatment plan for each patient. Dental implants consist of a strong titanium post that is securely anchored to the patient's jawbone, and a custom-made porcelain crown that blends in with surrounding teeth for a natural look and feel.
Denture Replacement / Anchored Dentures
Unlike traditional dentures, anchored dentures can be secured into place through the use of dental implants, as opposed to messy adhesives. Anchored dentures provide a more reliable, convenient, and comfortable option for dentures wearers. Therefore, many patients who have used traditional dentures choose to replace them with anchored dentures for less slippage and more peace of mind.
CEREC® Same Day Crowns and Restorations
With the state-of-the-art CEREC® in-office milling system, our practice can produce custom-designed permanent dental crowns right here in the office. This eliminates the inconvenience of having to wait for a crown to be manufactured at an outside dental lab, allowing many patients to receive their dental crowns in a single office visit.
Full Mouth Rehabilitation
Patients who require extensive restoration can benefit from a full mouth rehabilitation. This comprehensive procedure combines multiple restorative treatments to fully repair and reconstruct the strength and health of your teeth. Full mouth rehabilitation commonly includes dental implants, porcelain crowns, dental bridges, and bonding. Depending on your individual needs, cosmetic treatments such as porcelain veneers and teeth whitening may also be included.