Dental Implants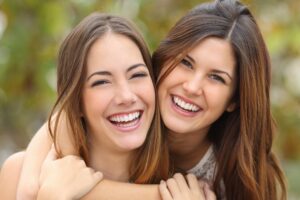 Losing a tooth affects you in several ways. Your confidence in your overall appearance may diminish and you may start to lose bone density in the jaw where you lost the tooth. Previously, dentistry had only a few answers for tooth loss. With dental implants, we can correct or prevent these risks to your appearance and oral health, with a solution that is so natural, even you may forget it is synthetic.
Dental implants virtually give you the gift of time. They can give you a younger appearance. The strong function of an implant can make you feel like your smile is youthful and strong because it feels like a perfectly healthy, natural tooth. Also, once placed, implants require the least maintenance of any tooth replacement option. They just need brushing and flossing like regular teeth and never have to be removed or maintained like dentures.
Dental implants restored by Dr. Dean Lodding are so successful for the vast majority of implant candidates, because they are firmly placed into the bone. This bond, called osseointegration, creates the firmest, most secure base of any tooth replacement option.
Dr. Lodding works with only the best oral surgeons who have extensive implant experience and offer you the most predictable, successful results. Once the implant post heals after being placed in the bone, Dr. Lodding can restore the implant by affixing a porcelain crown snugly in place.
You don't have to despair if you identify with severely damaged or missing teeth. Regain full function, a great smile, and the zest of youth with a dental implant from Dr. Lodding at Smile for Life Dental.
Real Patient Story
Tammy recently had her first dental implant installed with us. Prior to visiting our practice, she did not know what to expect and was scared of any pain or discomfort she may experience during the procedure, as many patients are.
She shares her dental implant experience in her own words below:
"When I came in for my appointment, the team at Smile for Life Dental made me feel so comfortable and took the time to answer every little question I had, explaining every detail so I had no surprises.

During the procedure I was shocked when I felt absolutely nothing – no pain at all! And what was even more amazing to me was that after the procedure I had no discomfort either. I felt so comfortable and so safe the whole time.

I was amazed they were able to place a new  implant tooth in my jaw without any pain. I'm so happy and wish I would have done it earlier!

I have tears in my eyes just thinking about how genuine everyone is in that office. You can't fake that type of care. I felt like my very best girlfriend was taking care of me every step of the way.

Thank you for giving me my beautiful smile back and holding my hand along the way."