Dental Implants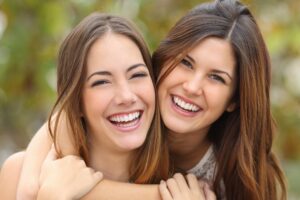 With today's advanced options for missing teeth replacement, the negative effects of missing teeth can be resolved with extraordinary results. Losing a tooth can affect you in several ways. Your confidence in your overall appearance may diminish and you may start to lose bone density in the jaw where you lost the tooth. Previously, dentistry had only a few answers for tooth loss. With dental implants, we can correct or prevent these risks to your appearance and oral health utilizing a solution that is so natural you may even forget it is synthetic.
For many patients, our office can perform the entire dental implant procedure right here under one roof, without having to refer out to another practice. Regain full function, a great smile, and the zest of youth with a dental implant from our dentists at Smile for Life Dental!
What Are Dental Implants?
A dental implant is a restorative option designed to replace a missing tooth with results that mimic the function, form, and feel of a natural tooth. Composed of a durable titanium material, the implant post is anchored to the jawbone. Over time, the post should fuse to the bone during a process called osseointegration and essentially become a part of the mouth, serving as the new tooth "root." A custom crown is then securely placed on top of the implant post, making it virtually indistinguishable from a natural tooth. Dental implants are so successful for the vast majority of implant candidates because they are firmly placed into the bone. This bond creates the firmest, most secure base of any tooth replacement option.
What Are the Benefits of Dental Implants?
Dental implants offer numerous benefits for patients who would like to replace a single missing tooth, several missing teeth, or even full rows of missing teeth. Here are a few reasons why dental implants are known as one of the best options for missing teeth replacement:
The strong function of an implant can make you feel like your smile is youthful and strong because it feels like a perfectly healthy, natural tooth.
For many individuals, dental implants can create a younger appearance.
Once placed, implants require the least maintenance of any tooth replacement option. They just need brushing and flossing like regular teeth, and they never have to be removed or maintained like dentures.
Dental implants do not move or slip along the gums, and are custom-designed to achieve a secure and natural fit.
Dental implants can enhance one's ability to speak, bite, and chew.
Dental implants do not require a restricted diet.
The results of dental implants typically last decades with the proper care.
Dental implants can be an effective treatment on its own, or as part of a customized full mouth rehabilitation to address numerous functional and aesthetic dental concerns. We can help you rebuild your smile with truly life-changing results!
Real Patient Story
Tammy recently had her first dental implant installed with us. Prior to visiting our practice, she did not know what to expect and was scared of any pain or discomfort she may experience during the procedure, as many patients are.
She shares her dental implant experience in her own words below:
"When I came in for my appointment, the team at Smile for Life Dental made me feel so comfortable and took the time to answer every little question I had, explaining every detail so I had no surprises.

During the procedure I was shocked when I felt absolutely nothing – no pain at all! And what was even more amazing to me was that after the procedure I had no discomfort either. I felt so comfortable and so safe the whole time.

I was amazed they were able to place a new implant tooth in my jaw without any pain. I'm so happy and wish I would have done it earlier!

I have tears in my eyes just thinking about how genuine everyone is in that office. You can't fake that type of care. I felt like my very best girlfriend was taking care of me every step of the way.

Thank you for giving me my beautiful smile back and holding my hand along the way."
Am I a Good Candidate for Dental Implants
Thanks to a variety of advances made in the field of implant dentistry over the years, more people than ever may qualify as candidates for dental implants. Individuals who have missing teeth and who have a sufficient amount of bone density in the area targeted for treatment often meet the initial requirements for this procedure. Adequate jawbone density is necessary for the implant post to successfully fuse to the bone. For patients who do not meet this requirement, a bone grafting procedure may be recommended, which can enhance jawbone density and properly prepare the jaw for a dental implant. Good candidates for dental implants are also those who are in general good health and are free of certain medical conditions which may affect the healing process. Individuals currently suffering from periodontal (gum) disease will need to have the condition treated prior to implantation.
Our dentist will thoroughly examine your oral structures during the initial consultation and determine whether a dental implant procedure is right for your needs. Our practice offers both dental implants and implant dentures as restorative options that can replace missing teeth with exemplary results.
What Does the Dental Implant Procedure Involve?
Smile for Life Dental can provide many patients with comprehensive dental implant procedures right here at our practice. Our dentist will develop your customized treatment plan based on high-resolution x-rays and digital mapping systems that can identify the precise location where the implant will be placed. This, combined with the skills and experience of our implant dentist, allows for the best possible fit and appearance for the implant and crown. The implant will be surgically inserted into the gum and anchored to the jawbone. Over the next several months, the osseointegration process should result in a strong fusion between the implant and the bone. A temporary crown can often be placed during this period. Once the implant has sufficiently fused to the bone, a more permanent, custom-designed crown will be affixed to the top of the implant post. With a final polish, the procedure is complete and you should have a beautiful new smile to go along with enhanced dental function!
How Long Do Dental Implants Last?
Since dental implants are specifically designed to become a permanent part of your mouth, the results can last a lifetime. With that in mind, proper at-home care and regular dental check-ups are key to maintaining the best possible results for many years to come.
What Do Dental Implants Cost?
It is important to note that dental implant procedures are fully customized for each individual; therefore, the total cost of treatment varies widely from patient to patient. Price components that will be factored into the cost of dental implant procedures include the number of implants being placed, the overall complexity of the treatment, whether any additional procedures—such as bone grafting or others—will be necessary to prepare the treatment site for the implant, laboratory and materials fees, and other associated expenses.
Once our dentist has developed your personalized dental implant treatment plan during the initial consultation, a member of our team will calculate a total cost estimate that includes all price components and go over it with you. Smile for Life Dental accepts a comprehensive array of payment methods, and we work with CareCredit®, a dental financing company that offers convenient low- to no-interest monthly payment plans for qualified applicants. We look forward to helping you find the most budget-friendly way to pay for your dental implant procedure.
Do you have additional questions about dental implants? Please don't hesitate to contact Smile for Life Dental for more information, or to schedule a consultation.