Denture Replacement / Anchored Dentures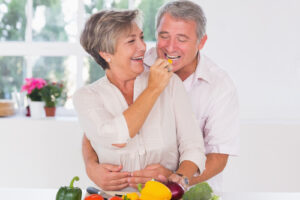 If you are missing one or more teeth, dentures might be a good option for you. At Smile for Life Dental, we understand that your smile might not appear how you want it to, but we are ready to help you start beaming confidently again. If you currently have traditional dentures, you likely know how they can slip out or feel unnatural or even uncomfortable in your mouth. Anchored dentures (also called implant-supported dentures) are attached to dental implants. This option can offer a more secure, high-quality experience. Our skilled dentist, Dr. Dean Lodding, is extensively trained and uses his expertise to bring you the best possible restorative solutions. Learn more about anchored dentures below.
How It Works
The restoration process involves surgically placing dental implants, which act as an anchor for your denture(s) to snap onto. Dr. Lodding works closely with our oral surgeon, Dr. Richard Dryer, to create an individualized treatment plan, ensuring the most successful results. A mold of your mouth will be taken to help create a personalized prosthesis for you. During your initial appointment, Dr. Dryer will place the implant posts. After they have healed and become secure, Dr. Lodding will restore the implants by affixing your custom-made denture(s).
Are Implant-Supported Dentures Right For Me?
If you are missing all or most of your teeth, this procedure can help you regain full use of your mouth. To find out if anchored dentures are a good option for you, Dr. Lodding will conduct an examination of your oral health and jawbone density. Candidates will need to have sufficient bone density to support the dental implants. Patients with a faulty dental bridge that requires replacement or is affecting bone growth may also benefit from switching to implant-supported dentures.
Benefits
Implant-supported dentures provide a solid foundation, improving both fit and feel. They can eliminate the possibility of the dentures shifting or moving out of place while eating or talking. They also offer a reliable and convenient choice with natural-looking results for patients who are tired of traditional dentures. Some of the most popular benefits include:
Comfortable and secure
Durable composition
No need for sticky adhesives
Reduces bone loss in the jaw
No restrictions on foods
Proper Care
Just like with natural teeth, proper dental hygiene will be required for your dentures to remain functional and cosmetically appealing. With your new anchored dentures, traditional techniques like brushing, flossing, and bi-annual dental check-ups should be sufficient for normal care. There are a few specific products we can recommend during your consultation to help preserve your new dentures and keep them firmly anchored.
If you have damaged or missing teeth, Dr. Lodding and the Smile for Life Dental team can help. Regain a beautiful, full smile today by booking a consultation with our Elgin-based practice.